GAHRA welcomes you to Georgia!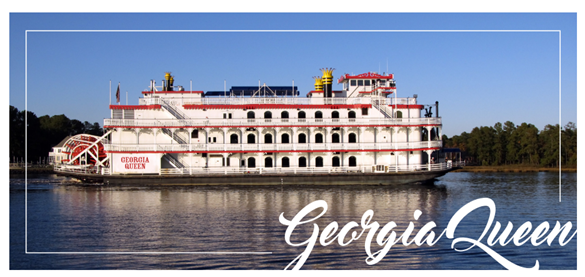 SERC Executive Committee
DINNER ENTERTAINMENT CRUISE
Friday, November 4, 2022
Boarding at 6:00 p.m., Sailing at 7:00 p.m., Returning at 9:00 p.m.
The Georgia Queen departing from 9 E River St
GAHRA is excited to invite you and one (1) guest to a GAHRA sponsored event on the infamous Savannah Georgia Queen riverboat. This event will include dinner and entertainment on the Georgia Queen while we sail downriver passing the world-famous Waving Girl, Florence Martus, through the ship yards and just past the tip of the Hutchinson Island and Old Fort Jackson where we'll turn around and come back. During this two-hour cruise, you'll enjoy a great dinner, two drink tickets for beverages at the boats bar, take a moment to leisurely lounge on one of the boats large decks to enjoy the scenery, and best of all, you'll experience Savannah in an unforgettable way.
We will begin boarding the Queen at 6pm from the boat dock on River Street, we set sail at 7pm, and return at 9pm. We hope you are able to join us for this amazing night on the river, so please RSVP below and we'll take care of the rest!
I'm looking forward to seeing all of you on the river!!
Gary Erwin
President
GAHRA
Please RSVP no later than October 20th to reserve your tickets. Due to the limited space available, we will not be able to honor any requests after the deadline.
The deadline for RSVP has passed.