cordially invites you and one guest
to the NAHRO Board of Governors Event
at the Center for Civil and Human Rights
on Thursday, October 25, 2018
from 6:30 p.m. until 8:30 p.m.
Enjoy food, drinks and full access to the museum.
Surely, this will be a highlight of your trip to Atlanta.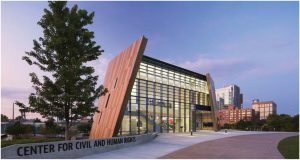 Learn about our nation's Civil and Human Rights movements
while exploring the museum!
Come and enjoy delicious Southern Delicacies!
Transportation Provided.
Buses will leave from the Baker Street side of the Hyatt Regency at 6:15 p. m.
Buses will depart from the Center at 8:30 p. m.
or consider the short walk (15-20 minutes) from the Hyatt Regency
if you prefer. Maps to the Center will be provided.
The deadline has passed.